Volunteer Appreciation Week
Sebring Meals On Wheels volunteers were recognized during the week of March 1 through March 5 on the lawn at the Palms of Sebring.
Mary Margaret Staik, Director of Operations welcomed the guests. Bryan Race, President-Elect for the Board of Directors, had a brief statement to make each day. Judy Legel, board member, was present each day, taking photos and assisting with the distribution of awards and recognitions.
Awards were given to the individuals who have volunteered for five years: Laura Gorman, Fred and Linda Schilffarth, and Patsy and Mike Young.
For fifteen years of volunteer service, Ed Dixon was recognized.
Sandy Vaughn was recognized for her 35 years of volunteering with Sebring Meals On Wheels. Her wooden plaque recognized her for her 35 years of service as well as her many valuable contributions, support, loyalty, and dedication.
Dave Layne, current Board President, was recognized with a plaque for his many years of valuable contributions, support, loyalty, and dedication to the Board of Directors and to the Sebring Meals on Wheels Program.
Also recognized was Judy Legel, for stepping up during the last year and acting as a substitute driver, as well as taking on the tasks of handling the office details when the director was unavailable.
Each volunteer received a tee-shirt, goody bag, and treat bag, as well as a certificate. The goody bag contained items donated by local merchants and businesses, such as Century Storage, Sebring Grand Prix Car Wash, and Comfort Keepers. The treat bag contained various candies.
We want to offer our sincere gratitude to everyone involved in helping serve warm meals to our clients, from our chefs to our drivers and board members.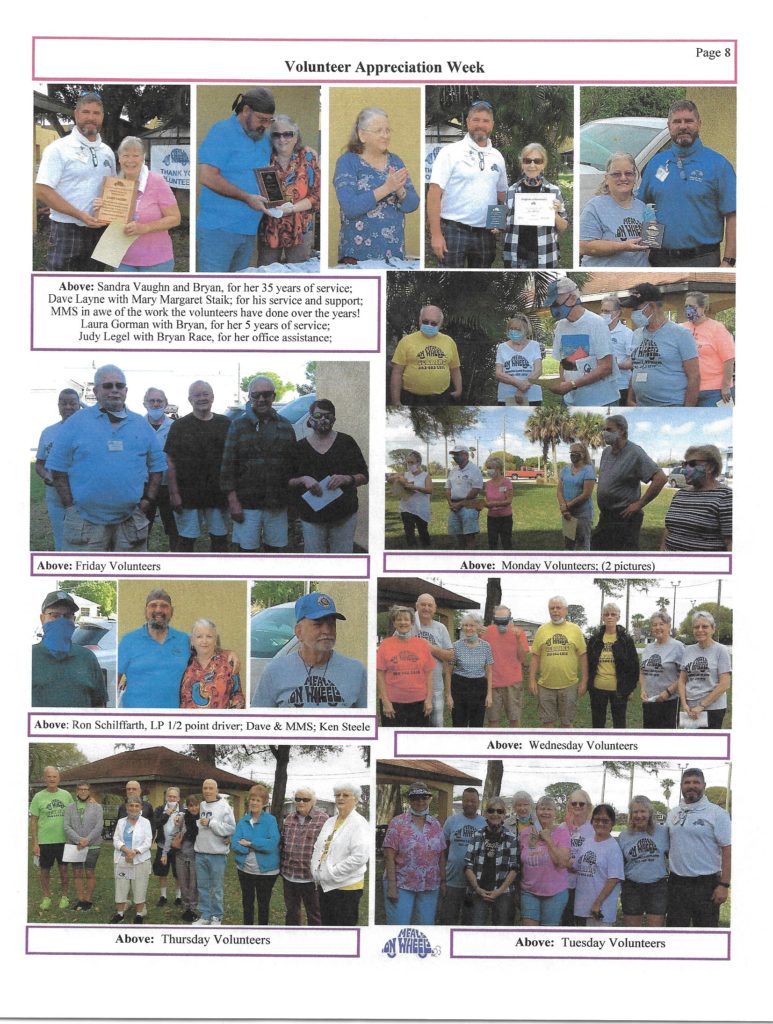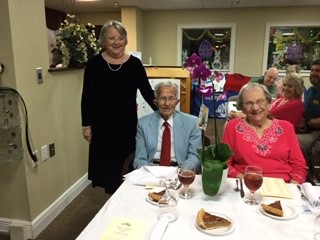 Meet Our Drivers
Bert and Kathy Acker (on leave)
John and Bonnie Anderson
Diane Arch
Brenda Back
Joyce Boivin
Morris Burnham
Tom Burrington
Jack Culkin
Karen Davenport
Wayne Denk
Kip (Carole) Drummond
Wanda Fore
Laura Gorman
Kirstin Heads
George and Nancy Hensley
Barbara Hughes
Randy Kephard
Christene Kaye Kneubuhl
Pamela Lamp
Dave Layne
Peggy D. Leach
Judy Legel
Alice Leong
Darwin Liverance
Cheryl McCullough
Tom McKeever
Julia Mercer
Gayle Metz
Kent Miller
Janet and Mark Mitzner
John and Kathy Olson
Sally and Al Pals
Virginia Peck
Bryan and Kim Race
Dick and Sandy Race
Ed and Rosa Richman
David and Vickie Rohner
Ron and Suzanne Schilffarth
Joanne and Tom Stadler
Paul and Mary Margaret Staik
Stephen Staik
Kenneth Steele
David Tardiff
Bruce Tooker
Sandy Vaughn
Robert Wetzel
Anne Marie Wheeler
Diane "Dee-Dee" Wood