Volunteer Appreciation Week
Volunteers for the Sebring Meals On Wheels program were guests of honor on March 17, at a dinner prepared by Kirsten and Karen Davenport, assisted by Fr. Scott Walker. The site of the banquet was St. Agnes Episcopal Church with fifty-four volunteers in attendance. The theme for the event was St. Patrick's Day.
Drs. Vinod and Tarlika Thakkar sponsored the event, and the first three Thakkar Awards were handed out. Kathy Acker, Judy Legel, and Kirsten Davenport received the awards for "Going Above and Beyond" delivering meals. Kathy crochets afghan lap robes given to the recipients of the meal program for their birthday. Judy assists in the office, is a substitute driver, and makes or purchases other gifts for the clients' birthdays. Kirsten, a professional trained chef, was instrumental in the preparation of the food for the 2021 Kentucky Derby Party and was the lead planner and chef for the Volunteer Appreciation Banquet, giving up her days off for the program.
Karen Davenport was recognized for her five years of volunteer service, and for her work as a board member. Kent Miller received recognition for 10 years of volunteering. Paul Staik was recognized for 15 years of volunteering and as board treasurer.
Each of the volunteers received a certificate honoring the time spent delivering meals in the Sebring and Lake Placid areas. They also received a Sebring Meals On Wheels tee-shirt and a gift bag.
The menu for the evening was corned beef and cabbage with carrots and potatoes, and shepherds pie, in keeping with the St. Patrick's Day theme.
Sebring Meals On Wheels is celebrating 49 years of continuous service to the Sebring and Lake Placid Communities. Volunteer drivers are needed to drive just one day a week, just two hours of their time. Call 863-402-1818 to become a volunteer, or to sign up to receive meals.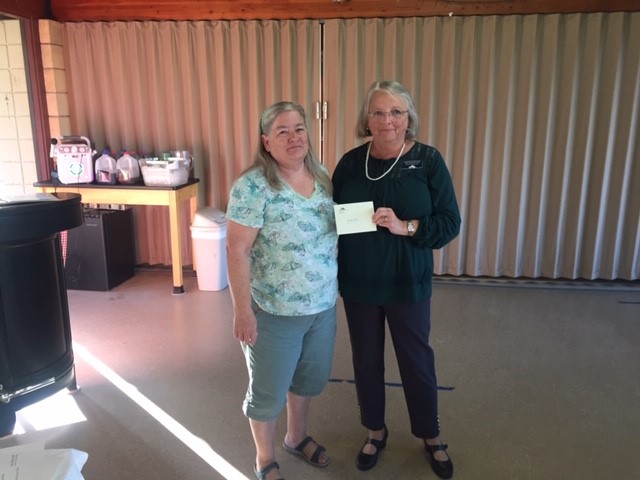 Meet Our Drivers
Bert and Kathy Acker
John and Bonnie Anderson
Diane Arch
Joyce Boivin
Gary & Janet Briggs
Morris Burnham
Tom Burrington
Tom M. and Nina Clancy
Sue Clifford
Jack Culkin
Kenneth Curry
Karen Davenport
Kip (Carole) Drummond
Kathi Flyte
Wanda Fore
Laura Gorman
George and Nancy Hensley
Barbara Hughes
Ernie and Renee Jock
Randy Kephard
Jim and Mary Kloster (Winter drivers)
Christene Kaye Kneubuhl
Mike and Marilyn Larson (Winter drivers)
Peggy D. Leach
Judy Legel
Alice Leong
Darwin Liverance
Cheryl McCullough
Tom McKeever
Polly Martin
Tom Mayer and Maria Bullock (Winter drivers)
Gayle Metz
Kent Miller
John and Kathy Olson
Sally and Al Pals
Virginia Peck
Harlan Pierce
Bryan and Kim Race
Dick and Sandy Race
Ed and Rosa Richman
George Rodney (Winter driver)
Harold Rowe
Larry and Connie Sanders (Winter drivers)
Sherry Scharbert
Ron and Suzanne Schilffarth
Paul and Helen Shoemaker
Virginia (Ginny) Skipper
Joanne and Tom Stadler (Winter drivers)
Paul and Mary Margaret Staik
Stephen Staik
Kenneth Steele
Drs. Vinod and Tarlika Thakkar
Peter Theobald
Bruce Tooker
Sandy Vaughn
Fr. Scott Walker
Robert Wetzel
Anne Marie Wheeler
Jennifer Weisel
Diane "Dee-Dee" Wood